1. Nvidia GeForce GTX 2080 Founders Edition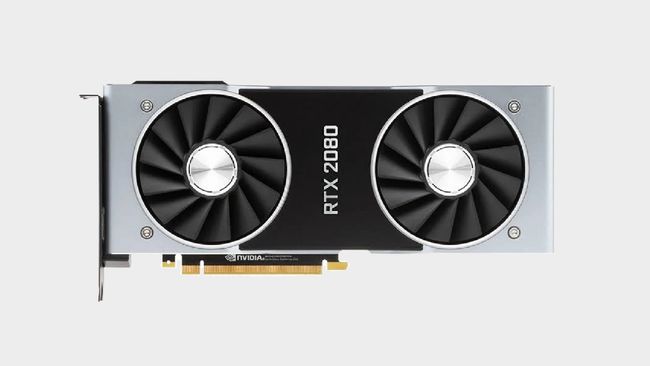 GPU Cores: 2,944 | Base Clock: 1,515MHz | Boost Clock: 1,800MHz | GFLOPS: 10,958 | Memory: 8GB GDDR6 | Memory Clock: 14Gbps | Memory Bandwidth: 448GB/s
Incredible performance
Crushes 4K with ease
Very limited application of ray-tracing
Expensive
The best card on the market now in terms of performance and price. While the 2080  is still an expensive proposition, the crypto-mining craze has abated somewhat and it's finally possible to find the Founders Edition at the listed MSRP, $799 (or cheaper). While the step-up version, the 2080 Ti, is more powerful, the additional $400 isn't worth it for a relatively marginal increase in computing power (between 10 and 30 percent), especially considering the relatively limited use cases for ray tracing that exist at the moment.
While Battlefield V looks great with ray tracing enabled (and will reportedly perform 50% better after the recently announced patch), it's one of an extremely limited field of games currently taking advantage of the technology. As more games that exploit ray tracing make their way into the wild and the Ti's price declines it may look like the stronger value proposition, but right now the 2080 is king of cards.
2. Nvidia GeForce GTX 1660
Excellent performance at a sweet price
GPU Cores: 1,408 | Base Clock: 1,530MHz | Boost Clock: 1,785MHz | GFLOPS: 5,027 | Memory: 6GB GDDR5 | Memory Clock: 8 GT/s | Memory Bandwidth: 192GB/s
Very affordable
Turing architecture
Excellent performance at 1080p Ultra
GGDR5 memory replaces GDDR6
Dips at 1440p
If you're looking for a modern, entry level graphics card that provides reasonable performance at a sub $250 price point, the 1660 is the choice for you. Slotting into the space vacated by the GTX 1060, and providing something like 13-15% better performance at less cost, the 1660 takes advantage of the Turing architecture implemented in the RTX lineup but paired with the widely available (and thus inexpensive) GDDDR5 VRAM.
The 1660 is clearly Nvidia's play to get into that golden market below $250 where, according to Steam Hardware Survey results, the vast majority of PC gamers shop. It's a mainstream play, perhaps aimed in part at mitigating the slower-than-expected sales of the 20-series family, but it delivers exactly what you expect at a price you can live with.
3. AMD Radeon VII
GPU Cores: 3,840 | Base Clock: 1,400MHz | Boost Clock: 1,750MHz | GFLOPS: 13,440 | Memory: 16GB HMB2 | Memory Clock: 2 GT/s | Memory Bandwidth: 1024GB/s
Solid 1440p and 4K performance
World's first 7nm GPU
Heaping helping of HMB2 VRAM
Short on features
AMD finally responded to Nvidia's high-end 20-series cards earlier this year in the shape of the Radeon VII, their most powerful consumer offering aimed at demanding gamers who are AMD diehards or remain skeptical of the ray tracing bandwagon. It's a great card that delivers extremely strong 1440p and reasonable 4k Ultra performance, and the first ever GPU manufactured with 7nm lithography. It's a powerful card at a reasonable price and, if you want a top shelf AMD card or favor their HMB2 memory solution, it's really your only choice.
A good thing, then, that they've delivered a competitive card. It's roughly analogous to the RTX 2080 in terms of horsepower and retails for a $100 less, though it doesn't come with any of Nvidia's much vaunted RT or Tensor cores for ray tracing and DLSS. If those aren't features that entice, however, the Radeon VII is a great alternative to Nvidia's growing stable.
4. Nvidia GeForce GTX 1070 Ti
GPU Cores: 2,432 | Base Clock: 1,607MHz | Boost Clock: 1,683MHz | GFLOPS: 8,873 | Memory: 8GB GDDR5 | Memory Clock: 8Gbps | Memory Bandwidth: 256GB/s
Competitively priced high performance
Fills a mid-range gap in Nvidia's product line
Supply issues
The 1070 Ti, another iteration on the now prolific Pascal, is one of the best mid-range cards on the market. If you're looking for a card to power games at 1440p resolution and that can easily handle VR, and aren't looking for the blistering performance of cards hundreds of dollars more expensive, the 1070 Ti admirably balances performance and cost.
Approaching the performance levels of the base 1080 for significantly less cost, the 1070 Ti is a granular answer to the challenge of AMD's Vega line. If you want killer performance but aren't ready to upgrade to something in the 20-series family, the 1070 Ti is a great upgrade option that will save you a few bucks, at least until Nvidia starts to properly phase them out.
5. Radeon RX 580 8GB
GPU Cores: 2,304 | Base Clock: 1,257MHz | Boost Clock: 1,340MHz | GFLOPS: 6,175 | Memory: 8GB GDDR5 | Memory Clock: 8 GT/s | Memory Bandwidth: 256GB/s
Excellent price and availability
Great match for current games
Starting to show its age
If you have yet to make the leap to a 4K display, spending a tremendous amount of money on an overpowered GPU may seem like an act of excessive decadence. While you're saving cash for a new 4K monitor/panel, the $200 the 580 shaves off the price of the next tier of cards is very significant, and AMD's budget option can easily cope with the tail of the 1080p era.
For the budget conscious and anyone looking to ensure your PC is keeping pace with current generation consoles, the 580 is a great solution. And its 8GBs of GDDR5 is generous in comparison to Nvidia's similarly priced 1060 line, overhead that will be greatly appreciated as rendering demands continue to escalate.